I was asked to show the setup on my Jackson Cruise. I bought this boat back in the summer before they began making the Cruise in the "Angler" Version so my boat will differ than some of the Cruise boat now being made. I chose the cruise as my boat of choice because it gave me the open space of a Coosa but better tracking and lower profile of the cuda. I think of it as a cross between the Cuda and the Coosa. It has the best of both boats in my opinion.
To begin with, I use the center hatch to store my waterproof camera, nothing else goes in there but the camera. It's quick access but keeps it protected.
Next is my painter, or tow rope. It is a necessity when river fishing. It's a rare time when you never have to leave your boat and whenever you leave the boat the painter is the first thing you grab. Mine in the picture is kind of a small diameter to what I usually use.
If you want to learn more about a painter check out Kreekn from Big Willis Outfitters youtube video.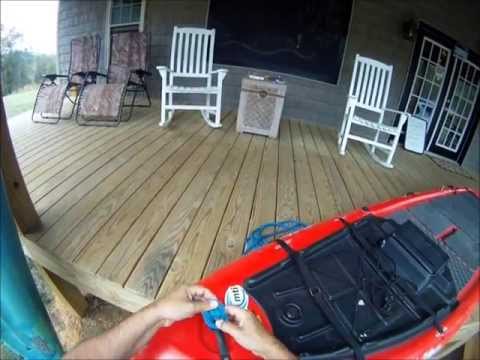 One bungee cords that run across the front of the Cruise I added some wiffle golf balls. I did this for two purposes, it raises the bungee off the deck of the boat so you can slide your paddle underneath very easily. Additionally ii is a holder for my fishing rods, it keeps them between the two and pointed straight ahead where I want them to be.
I added paddle holders to both sides of my kayak. The newer Cruise has paddle holders now but mine did not come with any. These are simple bungee cords ran under the handle to a j- hook that I added. I did this because I only had to drill one hole for each paddle holder. It works very well and holds the paddle and a stake out pole in place and easily accessible.
I added a fish grip to keep fish in the boat. An old microphone cord works pretty well.
Carrying tackle on-board for me consist of 4 waterproof plano boxes that go underneath the seat and a bag of plastics that I tie off and place at my right foot. I really like them being there as they are so convenient.
I store my essentials such as wallet and keys in a dry box in the bag behind the seat. This makes them readily available in case the game warden happens to show up. Of course that has never happened while kayak fishing.
Soft sided cooler to put my drinks, snacks and lunch in. Tied down with the bungees, so it doesn't get away.
I added the ram balls and the Zooka Tubes to hold two fishing rods. They work pretty well and without the need for a bungee to tie them off like on the rocket launchers.
On the right side of my seat is a pair of high quality pliers. I use these to remove hooks, cut line and etc…
My trust Foxworx paddle. Hand made in the U.S.A.
My anchor system was added to give addition control. It consist of a clothesline reel mounted inside the kayak, and the line runs around the left side and out a hole, through the mini clam cleat and through eye pads and out the back of the boat. It works quite well and I have been well pleased with it. In the picture below is a grapple anchor, I use this in the saltwater only. In the rivers I use a drag chain.
All components were added with pop rivets and marine goop.
Inside the kayak I always carry a dry bag and a spare paddle. In the dry bag is a change of clothes, first aid kit, multi-tool, duct tape, fire-starter and toilet paper.